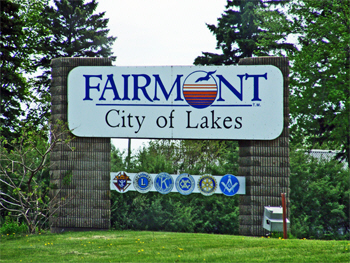 Several dozen residents were present at Monday (Aug. 22) evening's Fairmont (Minn.) City Council meeting for a public hearing regarding rezoning a 93-acre parcel north of George Lake and west of Holland Street from R-1 single family residential to A agriculture transition. The property owner plans to develop a campground on the land, with the potential future expansion of residential housing and a restaurant, according to the Sentinel.
On Aug. 2, the Fairmont Planning Commission held a public hearing and at that time recommended that the council rezone a portion of the property to agriculture transition as it allows some uses which are consistent with the city's 2040 Comprehensive Plan.
During Monday's meeting, Planning and Zoning Official Peter Bode said that staff recommend denial of the rezone request because the agriculture transition is incompatible with the Comprehensive Plan and because the proposal is to split the lot into two zones, which should be done through the process of a subdivision and not a rezoning process. Bode has previously said that splitting parcels and having them zoned differently is bad practice.
"If the rezoning is denied tonight there is still a plausible path in order to end up in a future where a campground is developed. The most reasonable pathway is to subdivide the land as provided in the city code and rezone a portion of the land to B-1, where a Planned Unit Development (PUD) gives the Planning Commission and city council control over the design including streets and other items," said Bode.
Brandon Edmundson, a local attorney representing the Carlson Walters Group, reminded the council that they originally suggested a B-1 neighborhood business rezoning, though the Planning Commission struck it down.
"The commission found that that was not in the best interest. They also said during that hearing and suggested that the Carlson Walters Group look at doing an ag zoning for a portion of the property where the campground would be and maybe leave the portion next to the existing neighborhood the way that it is," Edmundson said.
He also acknowledged that the Carlson Walters Group would need a Conditional Use Permit (CUP) permit before a campground can happen.